Vintage Wedding Packages:
Make your wedding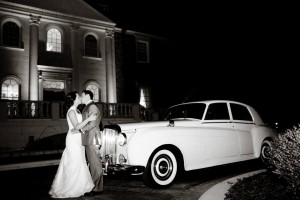 day the experience of a lifetime as you are swept away in the classic elegance of one of our stunning vintage cars. Whether in our beautiful Vintage Convertible or our stately Air-Conditioned Bentley Sedan, you are sure to feel like royalty on your wedding day.
All Vintage Wedding Packages are based on your number of destinations and each Package includes professional service by your personal chauffeur, an elegant red carpet leading up to the vehicle, a complimentary personalized bottle of Champagne, a beautiful "Just Married" sign on the back of the vehicle, plenty of time to make stunning pictures with your photographer,  and the opportunity to create some incredible memories on the most important day of your life!
Select from….
Classic: Enjoy the beauty of riding in classic style with our Classic Wedding Package. This package includes transportation to ONE destination, such as from your Ceremony to your Reception, or as a "getaway car" from your Reception to your local evening hotel. Your photographer is sure to capture some beautiful pictures leading up to your getaway as you enjoy your beautiful vehicle for up to a maximum of 2 consecutive hours of service. $975 Convertible or $775 Sedan.
Elegant(Most Popular): Our most popular Package for those that desire pure elegance during their wedding day with transportation to TWO destinations. After a picturesque ceremony, the beautiful new couple will exit the church onto the red carpet and into the vehicle of their choice where they will be carried off to their Reception. As the evening comes to an end, they will then be escorted away from their Reception to their evening hotel by their personal chauffeur. Your guests will be in awe and your photographer is sure to create some exquisite pictures as you enjoy your vehicle for up to a maximum of 5 consecutive hours of service. $1175 Convertible of $975 Sedan.
Platinum: When nothing but the finest will do, select our Platinum Wedding Package with transportation to THREE destinations. This package begins with the Bride and her Father by being picked up and escorted to the Ceremony, after which the new Mr. and Mrs. will be whisked away to their Reception. After an amazing evening they will complete their wedding day experience as they wave goodbye to their friends and family from the stylish back seat of a beautiful vintage car. To ensure you have every possible opportunity to make the most incredible pictures with your photographer, you will be able enjoy your beautiful vehicle for up to a maximum of 7 consecutive hours of service on your wedding day. $1,375 Convertible or $1,175 Sedan.
*Customized packages with additional time or destinations are available by request. We also offer a variety of Packages for our Modern Limousines, buses, and Sedans. Discounts are available for for multi-vehicle reservations. 
Service Area
      We are happy to travel throughout Alabama, Georgia,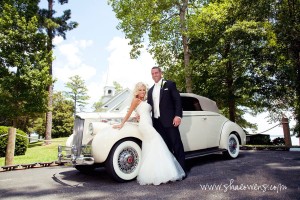 and the Panhandle of Florida to help make your wedding day special. A Travel Fee will be added to your selected Package for travel to your event location outside of Auburn/Opelika, AL.
Contact us for more information and to reserve your date
__________________________________________________________________________________
"We really appreciate all that you did for us on our wedding day. We always wanted to ride away in something different, but we had a hard time finding the perfect car. We heard about your Packard from some friends and saw pictures and knew that this was what we had to have to leave our wedding reception in. We could not have made a better choice! Chris was a pleasure to work with and did everything he could to make sure our night was everything we hoped for and more!"
-Ashley H., Auburn, AL